!
En sterk og beslutsom livsvilje er unektelig en fordel som *Ocean-kryssende* W-seiler, men er ikke fult nok, når man er blitt gammel og alene gjennom en slitsom, kald og lang vinter uten de grunnleggende krav til stabile forhold, livsføring og overlevelse, såsom varme, ordentlig mat og ikke minst ca. 2 liter vann/døgn for å unngå dehydrering. Akkurat det er ikke så enkelt; sett en stor mugge/kanne på kjøkkenbenken og pøs opp i denne tilsvarende veske-mengde som blir drukket, og mål så opp om kvelden. Det er da helt sikkert mindre enn du tror! Ca. min. 2-3 ltr. veske i varme forhold er ønskelig. En gammel får vann på sykehus - med èn gang!
Frank Dye manglet dette, ble syk og var etter den info jeg fikk, bl.a. fra hamselv, på vei ut bak *kimingen*. Selv en positiv villet handling fører ikke alltid til handlingens heldige utførelse - basale krav må imøtekommes !
Takk og pris fikk Margaret D., som er handikappet og bor langt fra ham, grepet inn, slik at FD nå er på god bedrings vei drevet i riktig retning av rehabilitering og sin livsvilje.
I Bærum, Høvik på Henie Onstads Rehabiliterings Senter behandles mange slike tilfeller, og 'gjenopprettings'-resultatene er nærmest overraskende utrolige!
FD er en W-venn gjennom 43 år som har passert Stadtlandet, med det meget farligt Kapp Kråkenes-værhjørne, hele tre ganger i W48 og bør selvsagt tas godt vare på. Heldigvis ser det bra ut nå for ham! Ken W1348.
Ang. Frank DYE og W48"Wanderer"(nu på Falmouth Maritime Museum) start av SWS 1968.
<![if !vml]>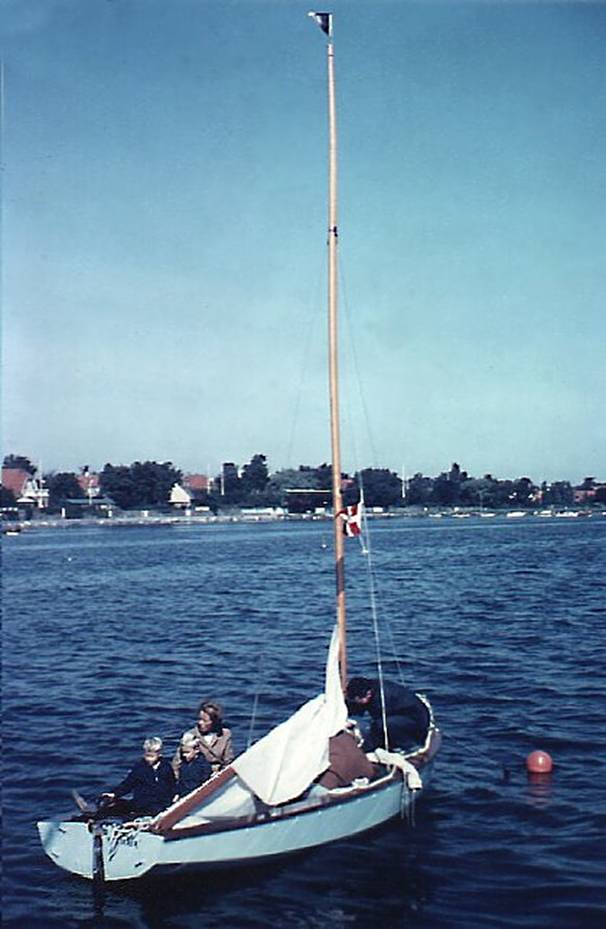 <![endif]>
The photo of W48 "Wanderer" by the North Mole in Dragør was taken as a diapositive by Frank Dye in August 1968 after the start of Scandinavian WAYFARER Association(SWS) on the Island of Ven, where Frank & Margaret Dye arrived after sailing from Esbjerg along the perilous coast of West-Jutland, through the Limfjord and the Kattegat Sea to the Sound and the island of Ven for the inau-guration of our association.
W48 is seen moored on the northern side of Dragør Breakwater Mole with a view towards Copenhagen Airport. A few days later Frank and Margaret continued towards Bornholm in the Baltic Sea in their beloved Wayfarer, W48 "Wanderer". About a week later they were given a time-saving trailer pick up by me from a sandy beach of the coast of Southern Sweden.
The diapositive with some members of my family+me aboard W48 was later converted to this internet picture by Rolf Hartvig-Hansen, and from then on found on his WAYFARER Internet Portal www.wayfarerjoller.dk/48 where the text of the W48 trip "Summercruise" by Frank Dye is presented in Danish(copyright given by Frank Dye) of the trip in 1964 from Scotland via the Faeroe Isles to Norway. Upon arrival here Frank and Billy Brockbank were recieved at Ålesund by the Norwegian welcome-comment: "You are Madmen!" Frank said, I'm inclined to believe so. They also learned that it was about the worst summer(definitely the worst 'summercruise' ever in a W. !! K.) in about a 100 years that had them survive the chilly, wet gales and a storm between the Fareo Isles and Norway.
Ken, W1348"Maitken"
PS. "Summercruise" – 16 m/m-filmen er smuldret men seilasen finnes idag på DVD, som kan leveres(DKK 40,00) av Jens Konge, ref. www.wayfarer.dk venstre margin under Foreningen, klikk DVD salg. MEN slik som med den nye *WAYFARER Book* tilbys her - i samarbeid med mangeårige W-venn Jens Konge - at medlemmer i SWS W-region NORGE kan bestille via meg og betale til min DnBNOR-konto 1627.13.08586 NOK 45.00 som da går fra Danske Bank til Jens Konge med adr. til mottaker av DVD'en i Norge.
Det har virket bra med W-boka, der vel 8 stk er gått fra W-sekr. til Norge. Med W-vennlig hilsen. Ken d.e. W1348